Akira Super is a Double Protection Whole Bathroom Water Softener for fitting on water inlet of the bathroom. This can be fitted in any bathroom, be it a bathroom of a multistorey apartment, flat or of an individual bungalow.
Akira Super Provides soften water at every point of Bathroom such as Shower, Tap, Washbasin, Bathtub, Jacuzzi, Geyser, Washing Machine and Cistern etc.
Simply connect at Bathroom Water inlet (Outside or inside).
Double Protection Advantage of MCHW Technology (Magnetic Conditioning of Hard Water) and Polymeric Oxyionic Media (POM):
Protection1: Magnetic Conditioning of Hard Water, MCHW technology Powers the product with a very high gauss value strong magnetic field, generated by Permanent rare earth magnets, Neodymium, which gradually modifies the ionic structure of hard water crystals and further lowers the surface tension of water to prevent the formation of scale on any kind of surface, and multiple other benefits in various applications.
Protection2: Polymeric Oxyionic Media (POM), generically Polyphosphate crystal media, a product of Atlas-Filtri Italy, which is odorless, colorless & NSF approved. This media improves the quality of water in the distribution system by removing scale deposits & tuberculation, discouraging microbial film formation/regrowth, and stabilizing free chlorine disinfectant residuals.
This double protection restricts scaling and the impact of excessive pH and hardness on pipes, bath fittings, appliances, hair and skin.
So, now celebrate water without any hassle of damages.
Features of Akira Super for Whole Bathroom Water Softener
Restricts Scaling on Pipe and expensive bathroom fittings.
Restricts hair fall and brings glow to the skin.
No Scaling on Appliances such as Geyser and Washing Machine. Increases efficiency and life of these appliances.
More lather and less consumption of detergents and clothes shine as new.
Maintains all essential minerals in the water.
No Water wastage.
NO RECHARGING HASSLE
Additional Information
Zero Electricity
No maintenance
100% Eco-friendly
Fit and Forget
Reputed agencies certification
Simple to Connect
Refilling of POM: This media gets consumed after treating approximately 1,00,000 litres of water. Assuming if daily consumption on water in the bathroom is 400 litres, then this media is likely to get consumed in about 8 months. However, this consumption increases or decreases based on level of hardness of water.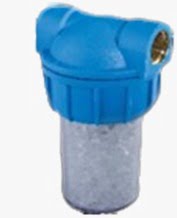 The POM can be easily refilled by losing down the POM housing from its top lid, clockwise or anticlockwise (as per your fitment direction), pour 250 gm of loose media and then again tighten it back.  Once refilled, its again ready to serve you for another 100000 litres of water.
The loose media in the packings of 250 gm to 1 kg is available from us.
Certifications From The Top Agencies
Product Warranty Terms & Conditions
Akira Super is warranted for One year against any manufacturing defect.
In case you receive a damaged or defective product, you can reach us at our email ID care@teknovus.in within 3 days of receiving the product, we will contact you and arrange for a replacement. Returning after 5 days may result in your return being rejected. We will assist you to sort out the issue you may have, either through the online method, over the phone or in-person technical visit. The returned product must not be in tempered condition.